Survivor Safety During COVID-19

Domestic Violence & Intimate Partner Violence in the time of 'Social Distancing'
Avoiding public spaces and working remotely can help to reduce the spread of COVID-19, but for many survivors, staying home may not be the safest option. We know that any external factors that add stress and financial strain can negatively impact survivors and create circumstances where their safety is further compromised.
Abuse is about power and control. Many times, while survivors are in an abusive home they find respite in daily routines; i.e. while abuser is at work, taking the children to and from school, running errands etc. When survivors are forced to stay in the home or in close proximity to their abuser more frequently, an abuser can use any tool to exert control over their victim, including a global health concern such as COVID-19. As we are all living in a situation we have no control over, an abuser may deal with the uncertainly by asserting more control over their victim/partner. In a time where companies may be encouraging that their employees work remotely, and the CDC is encouraging "social distancing," an abuser may take advantage of an already stressful situation to gain more control.
How COVID-19 could specifically impact domestic violence survivors/victims:
Abusive partners may withhold necessary items, such as hand sanitizer, disinfectants or soap.
Abusive partners may share misinformation about the pandemic to control or frighten survivors, or to prevent them from seeking appropriate medical attention if they have symptoms.
Abusive partners may withhold insurance cards, threaten to cancel insurance, or prevent survivors from seeking medical attention if they need it.
Programs that serve survivors may be significantly impacted –- shelters may be full or may even stop intakes altogether. Survivors may also fear entering shelter because of being in close quarters with groups of people.
Survivors who are older or have chronic heart or lung conditions may be at increased risk in public places where they would typically get support, like shelters, counseling centers, or courthouses.
Travel restrictions may impact a survivor's escape or safety plan – it may not be safe for them to use public transportation or to fly.
An abusive partner may feel more justified and escalate their isolation tactics. 
If any of the above sound like they may be happening to you or someone you love, here are a few suggestions for survivors that may make this uncertain time feel a little bit safer:
Create a safety plan.
A safety plan is a personalized, practical plan that includes ways to remain safe while in a relationship, planning to leave, or after you leave. Here at The Hotline, we safety plan with victims, friends, family members, and anyone who is concerned about their own safety or the safety of someone else.
Here is what one of our staff members has to say about safety planning.
You and your partner may be told by either or both of your employers to work remotely to limit social interaction. Having a safety plan laid out can help you to protect yourself during this stressful time. You can learn more about safety plans here, or here, and you can find an interactive guide to safety planning here. You can also call our hotline (570-421-4200) and talk to one of our trained counselor advocates for a personalized safety plan.
Because there may be limited shelter availability due to COVID-19, consider alternatives such as staying with family or friends, staying in motels, or sleeping in your vehicle. Be extra mindful of good hygiene practices if you're leaving as well – wash your hands regularly, avoid touching your face, minimize contact with surfaces that other people have had contact with, etc.
Practice self-care.
COVID-19 is causing uncertainty for many people, but getting through this time while experiencing abuse can feel really overwhelming. Taking time for your health and wellness can make a big difference in how you feel. To learn more about how to build in self-care while staying safe, you can learn more here, here, or here, and here are some self-care ideas for parents. More resources linked below:
Taking Care of Your Behavior Health by SAMHSA
If you're a friend or family member of someone experiencing abuse, you may not be able to visit them in person if you live in an area where there are COVID-19 cases. Seeing someone you care about being hurt is stressful. Remind yourself that you can't make decisions for someone else, but you can encourage your loved one to think about their wellbeing, safety plan and practice self-care while they are in their home.
Remain Educated and Informed
Only rely on reputable sources for information regarding COVID-19. Your abuser may be believing misinformation campaigns (AKA "fake news") or things they see on Facebook. To keep yourself and loved ones safe before to follow CDC Guidelines and Do the Five.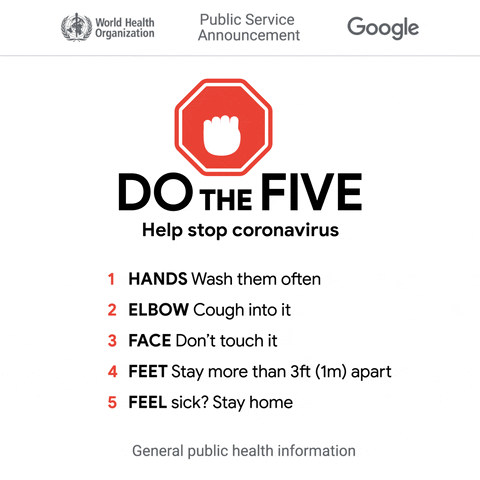 Pennsylvania Department of Health
Center for Disease Control and Prevention
How do you know if something is reputable?
While no one source of information is perfect, some are undeniably better than others. It's best to look for sites that:
rely on experts who use well-accepted scientific analyses and publish their results in reputable medical journals
have a mission to inform and protect the public, such as the CDC and the WHO, which recently added a myth busters page to its information on the virus
are not promoting or selling a product related to the information provided.
Other good online sources of information on the virus include:
Reach out for help.
While people are encouraged to stay at home, you may feel isolated from your friends and family. Even if you are isolated, try to maintain social connections online or over the phone, if it is safe to do so, and try to stick to your daily routines as much as possible.
For any victims and/or survivors who need support, we are here for you. Call our free & confidential 24-hour hotline: 570-421-4200
Due to the increase in calls we are receiving, we wanted to share other resources for support. Regional and National helplines and hotlines are open and available to you as well. If you are unable to make a call because your abuser is around and listening, considering using one of these resources that will allow you to talk to someone via text:
National Domestic Violence Hotline: Call 1-800-799-7233 or 1-800-799-7233 for TTY, or if you're unable to speak safely, you can log onto thehotline.org or text LOVEIS to 22522.
RAINN/ National Sexual Assault Hotline: Call 800-656-HOPE (4673) or Go Chat
PA Coalition Against Domestic Violence: Advocates are available to help every day and in over 200 languages by calling 1-800-799-SAFE (7233) or chatting online.
StrongHearts Native Helpline 1-844-7NATIVE (762-8483) is a safe domestic violence and dating violence helpline for American Indians and Alaska Natives, offering culturally-appropriate support and advocacy daily from 7 a.m. to 10 p.m. CT. Anonymous and confidential.
National Teen Dating Abuse Helpline: 1-866-331-9474 The hotline is open 24 hours a day, 7 days a week, and it is free and confidential. The website offers a live chat option and a text message option.
Crisis Text Line: Text HOME to 741741 to connect with a Crisis Counselor.
National Suicide Prevention Lifeline: 1-800-273-8255 The Lifeline provides 24/7, free and confidential support for people in distress, prevention and crisis resources for you or your loved ones, and best practices for professionals.
VictimConnect: Hotline by phone at 1-855-4-VICTIM or by chat for more information or assistance in locating services that can help you or a loved one after experiencing domestic violence.
The Mental Health Support Line Available to the citizens of PA.  A 24/7 mental health and crisis support line for people dealing with anxiety or other difficult emotions became available. Callers will be able to speak with staff who are trained in trauma-informed principles and will listen, assess the person's needs, triage, and refer to other local supports and professionals as needed. Can be reached toll-free, 24/7 at 1-855-284-2494
from anywhere in PA.
The Deaf Hotline has advocates available 24/7 for crisis intervention, education, information and referrals for Deaf, DeafBlind, DeafDisabled callers. Contact an advocate by email: nationaldeafhotline@adwas.org // Get help 24/7 by calling 1-855-812-1001 (Video Phone) // We offer advocacy through our online chat services, available every day 24/7/365.
All Pennsylvania Domestic Violence Programs and Phone Numbers
Call 911 if you or someone you know is in immediate danger. This includes recent threats and acts of violence.
Online Chat Rooms, Message Boards and Support Groups
Please note: Women's Resources has no relationship with these websites and cannot vouch for their safety or credibility. We provide these links for your information.
Weekly Online Support Groups for Men Who Were Sexually Abused or Assaulted
Confidential, Anonymous, and Facilitated by a Counselor. Free and anonymous chat-based support groups for male survivors of sexual abuse or assault who are seeking a community of support. Each group meets weekly and is facilitated by a counselor. Beginning in March 2020, daily online support groups will be available Monday through Friday. Scroll down to learn more and join a group.
AfterSilence.org
After Silence is a non-profit organization, message board and chat room for rape, sexual assault, and sexual abuse survivors. Their mission is to support, empower, validate, and educate survivors, as well as their families and supporters. The core of the organization is a message board and chat room where victims and survivors come together online in a mutually supportive and safe environment.
DomesticShelters.org Facebook Group
One of the most active places where domestic violence victims and survivors converse is on this website's Facebook page. There is daily conversation, people sharing opinions, past experiences and unvarnished stories, and occasional advice from professionals that have joined in on a topic, all within the context of an archive of articles on a wide range of domestic violence topics.
Fort Refuge
A clever, grassroots site run by survivors for fellow survivors as a safe place to come together and discuss their struggles and victories in healing from various types of abuse. Though the forum and chat do not boast the same numbers as some of the larger organizations, they are one of the more active conversation places on the Internet currently. Also adds new content to its site regularly.
isurvive
isurvive is an online abuse survivor support group. They are a volunteer-driven organization with a team composed of people from various places around the United States, Australia, Europe and the UK.They offer resources and forums where adult survivors of child abuse and their loved ones can seek support.
MaleSurvivor
MaleSurvivor provides critical resources to male survivors of sexual trauma and all their partners in recovery by building communities of hope, healing, & support. Services include online discussion forums for male survivors and their partners, online therapist directory, professionally facilitated healing retreats and workshops for survivors, and training for professional across disciplines.
OnYourMind.net
A safe and anonymous place for teens to get information and support from other teens with a chat room, Monday through Thursday 4:30-9:30 PST.
Pandora's Project
The largest online community for sexual abuse and domestic violence survivors to chat, find resources and share their stories. Pandora's Project provides information, facilitates peer support and offers assistance to male and female survivors of sexual violence and their friends and family.
—
There are many questions we are facing during this time of uncertainty. We do not have all of the answers, but we are here for you and want you to know you have somewhere to turn for support.  
You are not alone.
En Español
Mantenerse segurx durante COVID-19
Nuestros asesores están listos para responder llamadas las 24 horas del día, 7 días de la semana, en alrededor de 200 idiomas llamando al 1-800-799-SAFE (7233). Cada llamada la mantenemos anónima y confidencial.
Joyful Heart Foundation en español
Resources for Immigrants
Immigrants Can Use Healthcare to Treat COVID-19 Without Penalty
USCIS encourages all those, including aliens, with symptoms that resemble Coronavirus Disease 2019 (COVID-19) (fever, cough, shortness of breath) to seek necessary medical treatment or preventive services.  Such treatment or preventive services will not negatively affect any alien as part of a future Public Charge analysis.  
Sources:
https://www.thehotline.org/2020/03/13/staying-safe-during-covid-19/?fbclid=IwAR2-zgXQ9NcfvL7gyXYUhtm_0p2HFyYur8ZHlWr-jEvj4X-B7XWB1EXjtzM
https://www.health.harvard.edu/blog/be-careful-where-you-get-your-news-about-coronavirus-2020020118801
https://www.workplacesrespond.org/page/coronavirus/
https://www.womenslaw.org/find-help/national/chats-and-message-boards
https://www.domesticshelters.org/resources/online-forums-and-chats